Project Cerberus started life as a 1970 Mustang Mach 1, equipped with a 351 cubic inch Windsor motor, and after decades of neglect is being reborn as a modern muscle car slayer. Equipped with over 1,000 horses and a custom suspension setup developed for handling road course events, this is going to be one bad ass pony!
Build Summary (updated Oct, 2017)
Objective:
The objective for Project Cerberus is to prove that classic muscle can be made to outperform and outclass modern pony cars. Cerberus is designed to compete nationally at the highest level of competition for the Vintage and Classic American Muscles classes of USCA, SCCA, Goodguys AutoCross, and 1/2-mile events like wannaGOFAST, without sacrificing creature comforts like air conditioning, a radio, sound deadening, and a good ride quality. In short, this car will be the ultimate classic Grand Touring Mustang. Our goal is to attend SEMA 2018, and begin competing nationally as early as Summer 2018, and we are on schedule to meet this target. We are actively seeking sponsors, and can be reached at SpectroRacingChannel@gmail.com.
Suspension:
Detroit Speed, Inc. front Aluma-Frame suspension w/ double adjustable JRi shocks and SKF spindles
Street or Track full-floating, cambered 9-inch w/ Watts Link and extended length trailing arms
Chris Alston's Chassisworks Universal-Fit torque arm and crossmember
Engine and Drivetrain:
Ford Racing 2015 Aluminator - NA
VMP Stage 3 TVS Supercharger
Power by the Hour (PBH) Performance 8-rib serpentine kit (power steering, A/C, alternator)
CompCams Stage 3 Blower Cams and Phase Limiters
Billet crank gears
Quicktime bellhousing
Tremec Magnum "EXTREME" (upgraded to handle 8,400 RPM shifts and 1,100 lb-ft), wide ratio gears
Aluminum driveshaft
Strange ProHD Aluminum center section w/ 4.10 gears, Truetrac differential, and chrome-moly steel yoke
31-spline crowned axles for cambered housing
Custom motor mounts to move engine back and lower
Custom transmission crossmember
TBD: radiator, road race oil pan, oil cooler, transmission cooler, differential cooler, power steering cooler, custom exhaust
Estimated HP = 1,000 BHP
Rev Limit = 8,400 RPM
Wheels, Tires, Brakes:
BFGoodrich Rival S 335/30ZR18 in a square (for USCA, SCCA, and Goodguys events)
Wheels: 18x12, manufacturer TBD
Brakes - TBD
Body:
Original body - 1970 Mustang Mach 1
Planned exterior color = Ford Avalanche Gray
Shaved drip rails
Removed seams between roof skin and A pillar and quarter panel (all metal, no filler)
Shaved and moved back firewall to move motor back
Fully custom fender aprons for Detroit Speed Inc. Aluma-Frame front suspension
New front fenders
New rear quarter panels, with 1 inch extension of body at body line for subtle widebody
New doors
New hood w/ reverse tilt brackets (in progress)
New trunk lid (in progress)
Maier Racing front and rear fender flares (in progress)
Maier Racing rear, flush mount bumper
1969 headlights and taillights (in progress)
Lexan windows front and rear (in progress)
Lexan rear spoiler
Custom front bumper and splitter
Side marker delete, front and rear
Extensive rust repair after media blasting
Chassis:
Chris Alston's Chassisworks ExactFit 1-5/8" Cage w/ custom 8-point bracing
Maier Racing subframe connectors (for mounting universal torque arm)
Fully boxed front frame rails
Custom cage-to-pillar, cage-to-chassis reinforcement panels
Interior:
The beginning
In September, 2011, I had recently graduated from college with my degree in Mechanical Engineering, and I decided it was time to start a project. I was raised to love Fords, so should come as a surprise to no one that my first love was a 1968 Mustang, owned by a family friend. Naturally, my first serious project had to be a classic Mustang.
I initially had my eyes on an earlier Mustang, but pre-1969 model years fetch a premium. If it ran and was in halfway decent condition, $25,000 or more. That wasn't in the budget. I heard through a friend that there was a 1970 for sale locally which had been restored a few years back and looked to be in good condition. Even better, it was selling for less than $20k! I saw the bright orange, but you have to call it Calypso Coral around the old die-hard Mustang guys, muscle car and had to have it. I knew this car had a few issues, and it was definitely not perfect, but that made it perfect for me.
i have no idea what i'm doing
A couple years went by and I had only done the minimum amount of work to keep the car on the road. I had big plans for the car, but big plans can be expensive ones. I wanted to get a lot done at one time, which meant saving up for performance kits and suspension packages that were not cheap. By selling another Mustang I had acquired to be my daily driver for a couple years, I was able to get the ball rolling. My initial plan was to do basic upgrades involving aftermarket kits that would bolt into the car with little to no fabrication required. Brands like Street or Track had earned strong reputations for turning old Mustangs into track cars, and the best part was that I could do it myself, in my garage, with little more than a 311 piece Craftsman Mechanics Tool Set and some penetrating fluid.
Well, it didn't take long to realize that I had no idea what I was doing. There was far more rust than I had anticipated. The previous owner clearly gave zero shits. Rust holes were plugged with fiberglass, or pieces of metal glued in place. The body was a complete mess, and there was no way that I could ignore all these issues.
The floor had several holes large enough for a golf ball the fall through, and were patched with fiberglass. This is what I would consider a "shade tree mechanic's repair". It is not uncommon to see, and if done right will last quite a while, but it's the lazy solution and replacing a floor pan really isn't that difficult. The firewall was a disaster, much of the cowl needed replaced, and the sections of the trunk which hold in the gas tank were epoxied in. I needed some serious backup.
As luck would have it
Months after diving headfirst into my Mustang, and feeling completely overwhelmed, I got extremely lucky. I became the winner of one of Speed Society's giveaways, meaning I was now the owner of a 700 HP 2011 Nissan GT-R with all kinds of goodies. What a car! And it was ALL MINE! ... So I sold it to pay for professional assistance with my Mustang! Duh!
On to violetto customs
Step 1 in the process was figuring out exactly what was good, and what was bad. There are many ways to achieve this, but mobile sand blasting was the easiest option. Yeah, it makes a horrible mess! As expected, just like the rest of my experiences, there was a lot more work required than what I thought.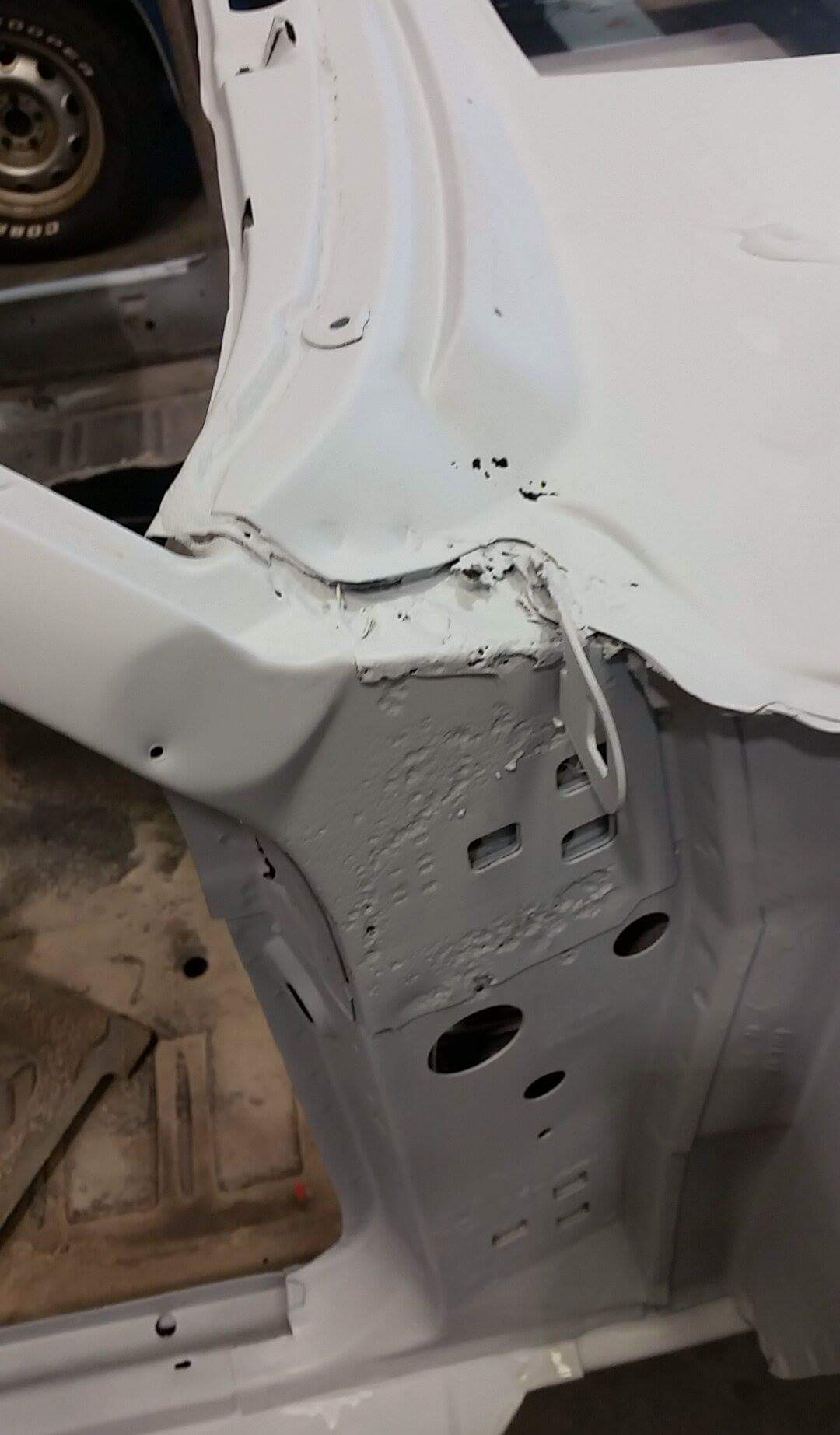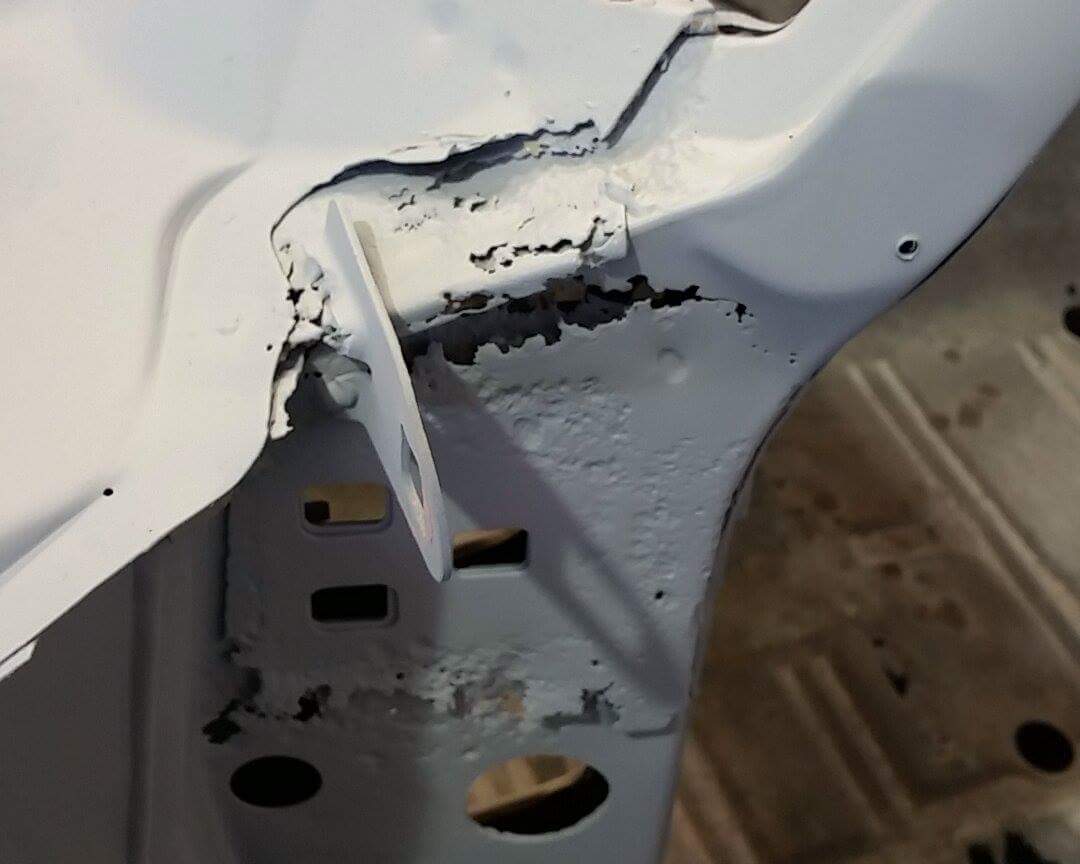 Look at all those holes! EVERYWHERE!!!
Repair - better than new
With all the bondo, filler, fiberglass, misc pieces of scrap metal glued over holes (long list of things wrong with the car) completely gone and only metal remaining, it was time to get out the cutting tools and welder! In some instances that meant cutting out and replacing the metal so that it would be as good as new; exactly as it was when the car rolled off the assembly line. In a lot of cases, however, it was time to make the car better, both for aesthetics and strength.
Shaving the drip rails and removing the lead filler seam