BUILD LIST
UPDATED 10-15-19
POWER MODS - 521whp/450wtq
Roush R2300 TVS 2.3L Supercharger - 84mm Pulley, 100mm idler

Manley Pistons

Molnar Rods

VMP Triple Pass Heat Exchanger

Mishimoto Radiator

Meizer Electric Waterpump

Ford Racing High Volume Oil Pump

Canton T-Pan 8qt Oil Pan

Comp Cams Stage 2 Blower Cams

ARP Head Studs

VMP Custom Dyno Tune

MGW Shifter - Competition Bushings - 1/2lb weight Pony ball

Exedy Mach 500 Stage 3 Clutch

Ford Racing 3.73 gears

SR performance steel braided clutch line

BBK long tube headers & X-pipe

Custom 2.75 -> 3 Inch Race Exhaust and dump - Borla XR-1s

Ford Racing aluminum driveshaft

Ford Racing FR500S T2R Torsion Differential

Ford Racing 2013-2014 GT500 7 Blade Fan

Mishimoto Oil Cooler with 185 Degree Thermostat

Reische Performance 170 Degree Engine Coolant Thermostat

Royal Purple fluids: Engine/trans/gear

93 pump, Boostane Pre-103

Ford Racing Air Conditioner delete

Stock 4.6 Block & Crank

Stock Transmission
HANDLING MODS
Ford Racing four piston caliper Brembo brake kit

Hawk HP Plus Race Pads

RBF600 Brake Fluid

Ford Racing 2014 GT500 dust covers

Steeda adjustable upper control arm

Ford Racing sway bar front

Steeda bump steer kit & X5 ball joints

Steeda X-brace & back seat removal kit

GT500KR Engine Strut Bar

BMR red lower control arm relocation brackets

BMR red lower control arms with spherical bushings

BMR tubular radiator support

Motion Control Suspension Coilovers - Rebound

Hyperco Springs 800# Front/ 275# Rear

Vorshlag Rear Ride height adjusters

Vorshlag Camber/Caster Plates

Enlarged Shock tower holes to gain more camber

Whiteline Camber Bolts

Whiteline Endlinks (from some mysterious different car)

Whiteline rear sway bar

Whiteline Performance Watts link rear end

Whiteline Anti Dive Kit (rear front control arm only)

Ford Boss 302R Delrin front control arm bushings

Weight reduction: AC/Radio/lighter components

ARP 3" Front Studs

ARP 3" Rear Studs

Summit Performance battery relocation kit

Custom APR Carbon Fiber Splitter

Speed Form Pre-Painted Chin Spoiler

APR GTC-300 Wing OR MMD Rear Decklid Spoiler

Track Spec Hood Vents S197 GT2 (side only)

Andersen Composites Carbon Fiber Trunk Lid (I run stock deck-lid in CAM-C/GT)

Maier Racing Front Fender Assembly

Maier Reacing Fender Flares

Ford Racing FR500 Sparco Race Wheel - Alcantara (13.5inch)

Speed Form Back Seat Delete Kit
WHEELS & TIRES
2 Sets of Forgestar F14 18x12 SUPER DEEP Matte Golden Bronze 6mm offset

AUTOCROSS: Hoosier A7 R-compound Race Tire 335/30/18 in a square (all fours)

STREET & HPDE ; 335/30/18 BFG Rival S in a square (all fours)

DRIFT: 275/35/18 Federal RSR on any random 18x9 i can find

Gorilla Forged Open ended Lug-nuts
APPEARANCE & SAFETY
Simpson Racing Hybrid (Neck Restraint)

Full FIA rated Race Suit and Gear from GForce

2010 OEM style taillights w/ custom wired in dual LED reverse lights & sequential brake/turn lights Switchback LED front blinkers (runs white, blinks yellow)

LED Fog-lights

Samsung Galaxy Tab - Running Torque Pro or Race Render Connected via OBD2 Android On The Go USB to Micro USB

Front clear corner blinkers

Color matching mirror covers

Cipher Auto Passenger Seat

Ford Racing cover & LED license plate light

Corbeau harness bar

Corbeau 5 point camlock harness

Corbeau FX1 Pro Racing Seat

SR Performance 8 Point Roll Bar

LED third taillight/Interior LED's/Fog light LED's

Boss 302 gloss black roof vinyl

BOSS 302S Tow Hook Bar

Flush Hood Latches

MANY DECALS THAT TOTALLY ADD A TON OF PWER!??!
Alignment - 1-26-18
Camber: -3.5

Caster: 7.2

Toe (out): .125
Tracks Its Run
Roebling Road Raceway

Florida International Rally & Motorsports Park

Road Atlanta Raceway (Full)

Daytona International Speedway (Rolex)

Sebring International Raceway (Full)
Other Notable Events
Heavens Landing Airport Half Mile Drag Race

100+ Autocrosses

30+ Quarter Mile Passes

Drift Events
HUMBLE BEGINNINGS
The SR Mustang was purchased as a Certified Preowned 2008 GT Premium with 39,000 miles. This is the first few photos i have of her! At the time I was driving a 2008 Mazda Miata. Needed something with a bit more space and power!
THE MODS BEGIN - STREET/SHOW CAR
I can almost never leave a car stock. Once i bought the Mustang I quickly realized that I started wanting to put some money into it. First thing i did actually was to buy another beater to drive to work. Cue the car everyone hates! Police Crown Vic! Loved that thing! Some basic power mods and some handling mods at this point.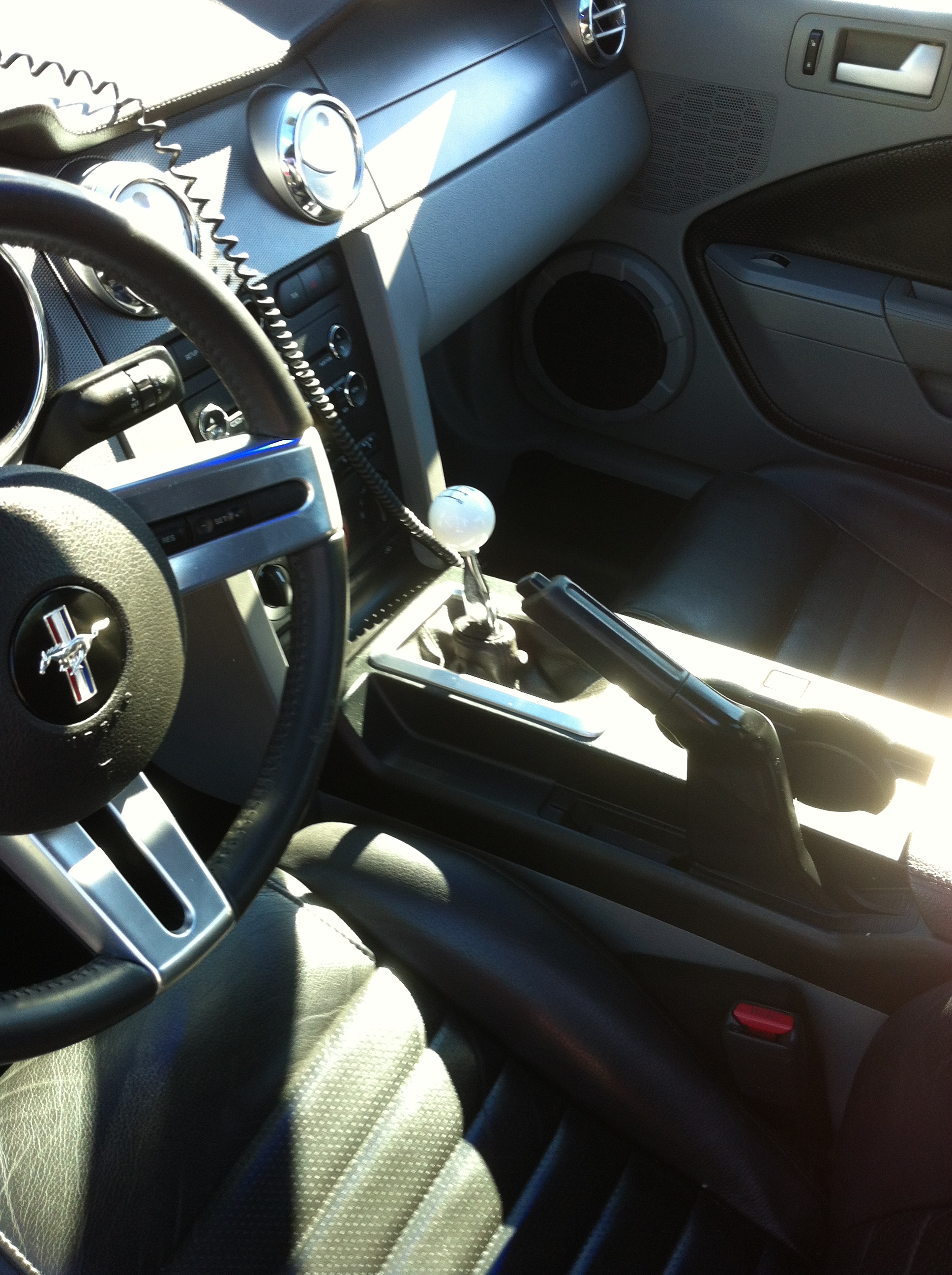 DISCOVERING RACING IS A BAD THING FOR YOUR WALLET
in February of 2012 I stumbled across Bucks Crazy looking Toyota Yaris (seen here in this review video). Asked him what the heck sorta racing he does with it. He said that fateful word.....AUTOCROSS. The moment after my first training event I went nuts with handling parts! This album below includes some of the begging handling parts i bought.
COMPETING REGULARLY IN AUTOCROSS
After my first season as a rookie I decided to go out, get race slicks and a trailer. The Mustang doesn't make the best autocross car but it sure is fun.
NATIONAL AUTOCROSS COMPETITION, TRACK DAYS AND BEYOND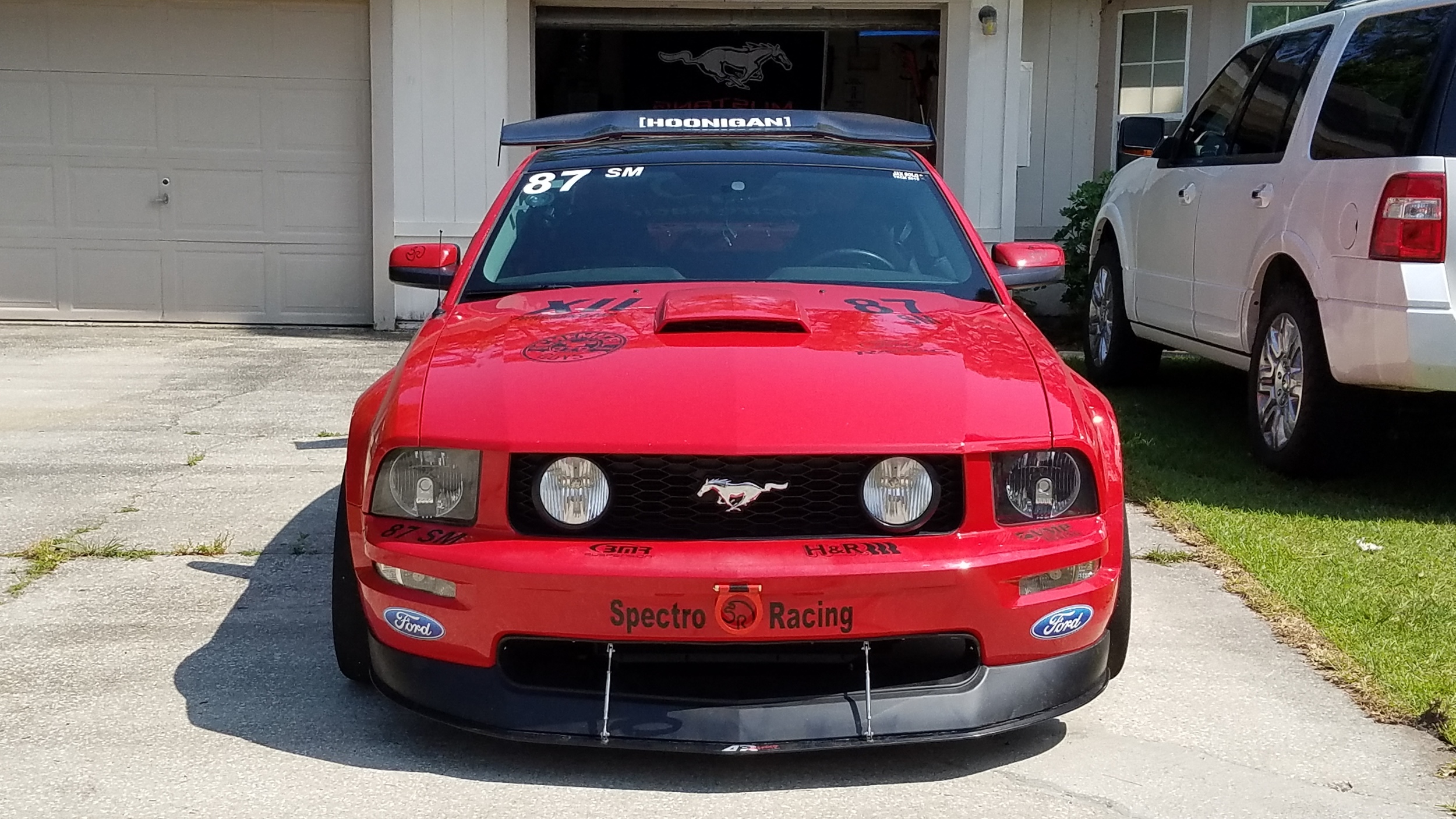 Starting in 2015 I placed 2nd in my first regional event. The car is getting more and more into a serious hardcore track car.
2016 Autocross Season
I LOST MY MIND
At the end of 2016 I was determined to make the car a fully prepped Street Mod car. That meant buying a race set of coilovers and bumping up the power somehow! MCS Coilovers and Roush R2300 TVS!
The ultimate money pit!
In 2017 the car was beat up a bit. The wing flew apart at a track day and some more tweaking was done. A new wing is coming and larger wheels. The end is near as the motor build is coming too!
The end is near?
In 2018 the car underwent a transformation to fit 335 size Hoosiers. This involved fender flares and significant modification. The motor build is coming which means there isnt left to do!